Singapore with its wonders of architecture and precise urban planning serves to remind us about keeping all aspects of our infrastructure at a high level. In this perspective, window cleaners in Singapore are treated not only as a routine task but also as taking a core position in preserving the city's glittery view. While the gleam of clean windows enhances aesthetic appeal, it also serves functional benefits: Using abundant natural light, unobstructed views, and energy-efficient design.
Clean windows can leave an indelible impression beyond mere visual appearance that affects the overall air and character of interior spaces including homes and offices. With such a blend between skyscrapers and suburban communities in the city, one needs the best window cleaning company that can handle tall heights as well as sophisticated dwellings.
Why Professional Window Cleaning is Crucial
Scope and Necessity: Window washing is not only a cosmetic enhancement—it's daily! This helps in preventing the accumulation of dirt, dust, and contamination thus extending its life span by making it easier to see through. Besides, any properly maintained exterior enhances the public image and reputation of a company; in the case of commercial buildings.
Potential Risks: However, window cleaners, particularly those that involve the external cleaning of high structures, are not without their own perils. The process is not for the faint-hearted; it entails dangers that come with being in great heights of work and the possibility of damaging windows if done wrongly. Therefore, hiring a competent and skilled service familiar with safety procedures is important.
Cost-saving in the Long Run: However, over time, accumulated dirt and grime can etch into the glass destroying it beyond repair requiring expensive replacement of the glass. Such professional cleaning services undertaken by window cleaners in Singapore help maintain originality and appearance and could minimize the cost of a window replacement in the future.
Environmental Health: Opened windows admit pollutants and allergens onto surfaces, thereby leading to a deterioration of indoor air quality. Cleaning off these pollutants from windows is not only important for a clear view, but it also enhances a good indoor environment.
Best Window Cleaning Services in Singapore
Singapore, with its high-rise buildings and scenic views, demands pristine windows. Here's an overview of the best window cleaning services in the city:
1. SGcleanXpert Overview: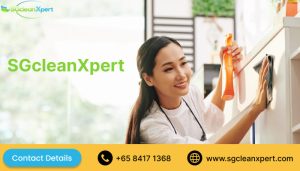 Scope:
SGcleanXpert is renowned for its comprehensive window cleaning services, encompassing both interior and exterior spaces. Their expertise extends to servicing high-rise buildings where they employ secure harness systems for the utmost safety and precision.
Risks:
With their meticulous approach to work, SGcleanXpert minimizes potential hazards, ensuring that the risk factor is kept to a bare minimum during operations.
Additional Services:
Beyond their signature window cleaning, SGcleanXpert offers a diverse array of services including:
Home Cleaning Services
Office Cleaning
Commercial Cleaning
Floor Cleaning
2. City Cleaning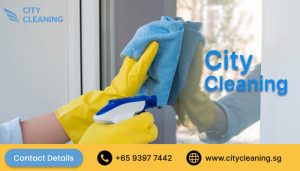 Scope:
City Cleaning excels in rendering spotless windows, covering both inside and outside surfaces. Reaching even the toughest spots, they ensure every window sparkles.
Risks:
Safety is paramount; the team undergoes stringent safety training. Elevated tasks are performed with utmost caution and expertise.
Additional Services:
While windows remain their forte, City Cleaning boasts an impressive array of other cleaning services.
Domestic Cleaning
Commercial Cleaning
Kitchen Cleaning
3. Bee Cleaning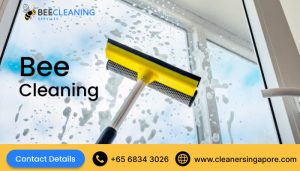 Scope:
Known for their prowess, cleanersingapore.com combines aesthetic and functional window cleaning. Their services stand out, ensuring windows always look their best.
Risks:
Safety is embedded in their ethos, with regularly inspected equipment. The team is well-prepared to handle any challenges securely.
Additional Services:
Bee Cleaning's prowess isn't limited to windows; they have a broad spectrum of cleaning offerings.
Carpet Cleaning
Home Cleaning
Office Cleaning
Window Cleaning
4. CleanWorthy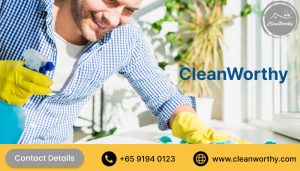 Scope:
CleanWorthy specializes in delivering streak-free windows, focusing mainly on interiors. Each project, big or small, promises immaculate results.
Risks:
Exterior tasks are approached with rigid safety measures. Every operation upholds top-tier safety standards.
Additional Services:
Branching out from its window cleaning niche, CleanWorthy provides an assortment of additional cleaning solutions.
Carpet Cleaning Services
Commercial Cleaning Services
Floor Cleaning Services
House Cleaning Services
5. Home Clean Home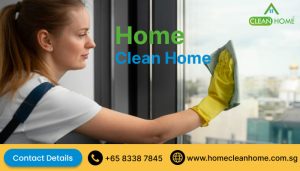 Scope:
A community gem, Home Clean Home provides comprehensive window cleaning solutions. Every window, regardless of its position, receives their meticulous care.
Risks:
Risk management is unparalleled, especially for intricate exterior tasks. Safety protocols are strictly adhered to, ensuring peace of mind.
Additional Services:
Home Clean Home also delves into a variety of cleaning specializations.
Disinfection Services
Curtain Cleaning
Sofa Cleaning
Mattress Deep Cleaning
6. Total Cleanz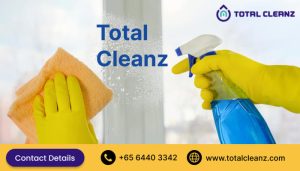 Scope:
Home Cleanz offers an unmatched window cleaning experience, mainly for interiors. The commitment to excellence is evident in every task they undertake.
Risks:
Safety remains a cornerstone, even in occasional exterior cleaning. Every task, irrespective of its complexity, meets high safety standards.
Additional Services:
Total Cleanz has a broad spectrum of cleaning offerings.
Residential Cleaning
Commercial Cleaning
Disinfection Cleaning
7. UniHome Cleaning
Scope:
UniHome Cleaning, backed by experts, guarantees an impeccable finish. Their seasoned professionals always aim for perfection.
Risks:
Risks are expertly managed, setting benchmarks in exterior cleaning. Safety protocols are robust, ensuring no compromises.
Additional Services:
Expertise includes post-renovation cleanups and regular home maintenance.
Spring Cleaning
Post Renovation Cleaning
Office Cleaning
Window Cleaning
While the city of Singapore sparkles, ensuring your windows do the same requires expertise and dedication. Window cleaning isn't merely about aesthetics; it's about safety, functionality, and durability. Transform your space by opting for any of these professionals, ensuring clarity in every gaze outside.